Frequently Asked Questions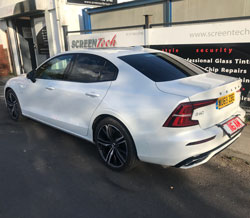 1: How long will it take to tint my car?
One of the most difficult questions to answer; it all depends on the type of vehicle, as we never rush an installation, but as a general rule it normally takes between 2 – 5 hours.
2: Can I open my windows after the installation?
We insist that you allow at least 24 hours before you open your windows, as this time allows the film to cure and the adhesive to harden.
3: Will the tint bubble or crack after time?
No, the films we use are the highest quality available in the world. We know cheap film means poor quality. When the film is installed by Screentech it will look as new for many years.
4: Is the rear window tinted in one piece?
Yes, all our installations are in one piece, the film is cut and shrunk to capture the curvature of the rear window.
5: Will you need to take any of the glass out?
We only take the glass out when essential to acheive a perfect installation; rear quarter light windows in the rear doors often need to be removed and rubber mounted glass though this isn't found much on newer cars.  
6: Is the tinting guaranteed?
Yes, all our tinting is guaranteed for as long as you are the owner of the vehicle.
7: Will the film affect the rear window demister?
No, in fact the film will help to spread the heat faster and will not affect the elements in any way.
8: What can I use to clean my windows after tinting?
Any good quality glass cleaner can be used, though try to avoid regular application of cream glass polish as has a lot of ammonia in it, which can in time can damage the film.
9: Now my windows are tinted, I have seen some scratches in the glass, which I didn't notice before?
On older vehicles, and even some newish cars, there is a good chance that there may be some light scratches on your glass, which can be emphisized once a dark tint has been applied.
10: Can the tint be removed?
Yes, all window film can be removed, even if it has been on for many years. We are often asked to remove poor quality budget tints for our customers.